Managing a server and end-user tech support is time consuming. Whether you and your teams are experts or are new to this, that is time you could use to focus on your core business. Leave your server management and tech support to us, and use that time to focus on the growth and success of your business.
The ipgod difference
Support by Computer Science graduates
At Bobcares, your business will be supported by certified Computer Science Engineers with extensive knowledge about servers, operating systems, networks and DevOps.
Market leader for 18+ years
Bobcares has the greatest history for Outsourced Support. Since 2001, we established all the important benchmarks in quality support such as super fast responses, dedicated staff, and more.
100,000+ servers supported
Over the past 18+ years, Bobcares has supported over 100,000 servers of website owners, web hosts, data centers and more. We achieved this growth by treating the business of each one of our customers as our own.
Located in Phoenix, USA and Kochi, India
We run our front-line phone support operations from Phoenix, AZ with an all-American team, and the backend help desk support & server management from Kochi, India. This helps us reduce total support cost while not compromising on quality.
ISO 27001 certified information security
We care about the security of your intellectual property and data security. That is why we've chosen the toughest security standard for hosting industry, ISO 27001:2013, to protect your customer data, server logins, service agreements, and more.
ISO 9001 certified support quality
We're committed to delivering top-notch support quality. We reinvest 5% of our revenue in an ISO 9001:2015 certified QA system, where experts analyze hundreds of tickets per month to continually improve support quality.
Support features
Available 24/7
Lights are always on at Bobcares for your outsourced web hosting support. You & your customers will get lightning-fast response 24 hours a day, 7 days a week.
Multi-channel support
Your customers can reach us in a channel they are comfortable with – Phone, Live Chat, Help desk or Email.
Customized support SLA
Need 15 minute responses to tickets? 5 minute response to alerts? You can do all that & more with dedicated support.
Flexible support coverage
You can pick the kind of coverage you need. Weekend only, night time, 12 hours or 8 hours – you name it, we'll provide it.
Single point of contact
An account manager familiar to you will act as the single point of contact at Bobcares for everything that relates to operations, projects, quality & more.
24/7 monitoring & rescue
We prevent customer complaints by monitoring your servers 24/7 and quickly rescuing failed or unresponsive services.
Coordination with your DC
If your server hardware fails, we'll open a ticket to your data center on your behalf and get the issue resolved.
Server updates & patching
We will apply server updates as soon as they are available. When there are unpatched vulnerability disclosures, we'll apply a hotfix to prevent exploits.
Security audits & hardening
We'll audit your server every few weeks and re-harden the server to make sure it can block all new kinds of attacks.
Server performance tuning
We'll keep your server blazing fast through periodic performance tuning and by fixing server bottlenecks in the event of server load spikes.
Backup management
To make sure you'll always have a reliable backup, we'll monitor your backup process, fix backup errors, and periodically test backup integrity.
Pre-sales support
If your prospective customers need help understanding your service features, we'll guide them towards the right package.
How it works
Our experts will monitor your servers 24/7 and respond to customer queries using your company name in the signature. We will keep your servers stable & fast through regular scheduled maintenance.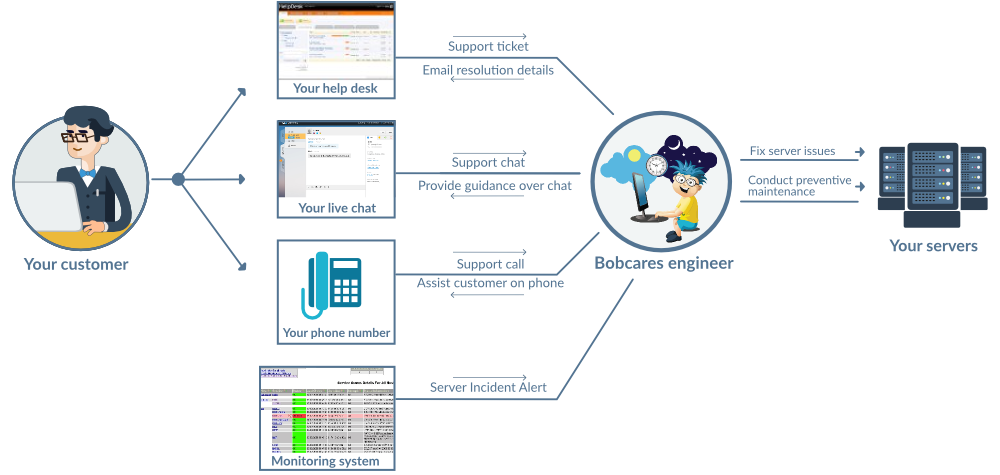 Supported Technologies
Linux or *nix
Redhat / CentOS / Fedora
Debian / Ubuntu
FreeBSD
Cloud Linux
VPS systems
Hyper-V
KVM
Proxmox / LXC
OpenVZ
Xen
Virtuozzo / Parallels Cloud
SolusVM
Virtualizor
Control panels
cPanel/WHM
Plesk
Direct Admin
InterWorx
ISP system
..and more
Windows
Server 2008 / 2012 / 2016 / 2019
Office 365
Cloud systems
VMWare
OnApp
AWS
oVirt / RHEV
Web apps
WordPress
Magento
Joomla
DNN
..and more
Web servers
Apache
Nginx
Litespeed
IIS
Varnish
Database servers
MySQL
MSSQL
MariaDB
PostgreSQL
Galera / NDB
Billing / Ticketing
WHMCS
OTRS
HostBill
SalesForce
..and more